"I've spent most of my days calculating arrow trajectories"
Strategic Position is a Marksman power: the 7th of the Aiming Mastery discipline.
The marskman knows how to locate herself in advantagous positions in battle.

Type: Constant
Discipline level: 13
Character level: 25

Affects: Self

Casting time: 1s

Cooldown time: 80s

Global Cooldown: Short
Power level
Level 1
Level 2
Level 3
Level 4
Level 5
 
Mana cost
120
140
160
180
200
Spell duration
25s
 
Debuffs on self
Movement speed -10%
 
Buffs
Ranged damage received
-5%
-7%
-10%
-15%
-20%
Notes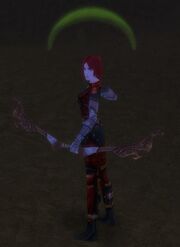 Documented changes
Version 1.10.9 (2014/8/28): Cancelation upon movement was removed. Movement speed debuff added. Ranged damage reduction buff was reduced. Duration reduced to 25 s.
Version 1.10.7 (2014/3/5): Casting Type has been switched to "Activable" and the power cancels itself if the player moves. Cooldown reduced.
Version 1.0.0 (2008/12/17): Changed from protection bonus to ranged damage resistance. Duration reduced. Cooldown reduced.
Community content is available under
CC-BY-SA
unless otherwise noted.