Area
Northeast Desert Forest
Realm:
Ignis
Inhabitants:
None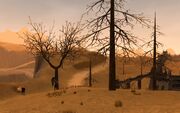 The Northeast Desert Forest is an area in Ignis' Inner Realm. The forest is a link between Alexia's Domains, Desert Valley and Altaruk's Surroundings. Bordering it is Ignis' Great Wall and the nearby Volcanic Zone. The forest is a quiet place, ideal for mid-level players looking to gain experience points. There are also stairs that lead up Ignis' Great Wall, from which the War Zone can be viewed.
Creatures
Community content is available under
CC-BY-SA
unless otherwise noted.