Mount Arena is an area found in Ignis' Inner Realm. The area can be entered from a steep road in Allahed's Valley. Mount Arena is an important place for the Ignean people, as gladiators fight here for glory, and pay respect to the fallen. The mountains themselves are grueling, so the journey up the mountain is considered by many to be a spiritual trial. A small enclave exists in the heart of the mountains, and is the site of an Ignean burial ground. Some of the dead have risen from their graves to haunt the nearby surroundings, the most notorious being Gohos.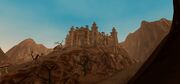 Creatures
Bosses
Notes
Bug: There is a point in Mount Arena where players can climb the surrounding mountains and explore beyond the intended map. It is not possible to enter the Initiation Zone, but players can reach areas like the mountains behind Altaruk City.
See also
Community content is available under
CC-BY-SA
unless otherwise noted.