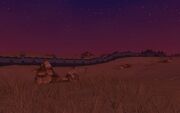 Medenet's Desert is an area in Ignis' Inner Realm, closely surrounding Medenet City. Medenet's Desert can be entered from Desert Valley, Central Desert and Western Sands. The area also has a save altar present here. Ignis' Great Wall separates the area from the War Zone.
Creatures
Community content is available under
CC-BY-SA
unless otherwise noted.