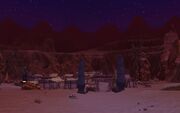 Essadi is a small village in Ignis' Initiation Zone. The village is the second settlement that new players in Ignis will visit before finally completing the Initiation Zone and then moving onto the greater stages of the game. Essadi has a small smelting industry, and the nearby grounds have water mills that are crucial for the villages survival. Essadi is built in an area traditionally known as "valle del sol", the valley of the sun.
Quests
See also
Community content is available under
CC-BY-SA
unless otherwise noted.