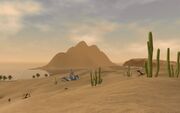 Cactus Coast is an area in Ignis' Inner Realm. The area can be entered from Meleketi's Desert, South Canyon and eventually leads to Meleketi's Beach. The area is full of cacti that grow abundantly. To the southern part of the area, a Giant Tol-Tar, Krontaron roams the area near some igneo ruins. Bones of adventurers that failed to kill him are loitered all around the area.
Creatures
Bosses
Community content is available under
CC-BY-SA
unless otherwise noted.