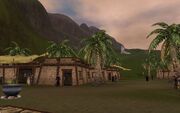 Allahed Town is an Ignean settlement situated in the middle of a giant valley. The town was named after Allahed, an Ignean spiritual leader that led the ancestors of the Ignean people to their new home in the desert. The valley is a truly unique part of the Ignean realm, as it is the only settlement surrounded by grass and foliage. The clean air in the valley is also said to work wonders for health, making Allahed Town a more peaceful place. The peace may not last long however, as an orc threat looms over the town in the nearby hills. The town is also a resting point for gladiators who train and compete in Ignis' Arena up the nearby mountain.
Quests
See also
Community content is available under
CC-BY-SA
unless otherwise noted.