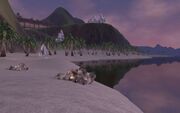 Allahed's Beach is an area in Ignis' Inner Realm. The beach is situated on the north-west coast of Ignis, at the very bottom of Allahed's Valley. The beach connects with Allahed Town and Alexia's Domains. The aquantis on the beach occasionally organize raiding parties to sabotage trading boats. A teleportation stone to the War Zone is also found halfway up the beach to the south of Allahed.
Creatures
See also
Community content is available under
CC-BY-SA
unless otherwise noted.